Lightweight Waterproof Rain Poncho
Lightweight Waterproof Rain Poncho
When you need to step out into unpredictable weather, carrying rainproof wear is always a good idea. This waterproof rain poncho, hiking rain jacket, reusable raincoat comes in handy for you. It is made of lightweight, yet durable waterproof material and can cover a backpack of up to 90 liters.
Product Description
What is a Rain Poncho?
A rain poncho is a waterproof and windproof garment that you can use in rain or snow. Ponchos are typically made from lightweight material. They are designed to keep you dry and protected from the elements while you're doing outdoor activities like hiking or mountaineering.
Ponchos come in different shapes and sizes, depending on the type of activity you're trying to accomplish while wearing one. If you're hiking or mountaineering, it's likely that your poncho will have a hood with a drawstring closure to keep the rain out of your face—this way, you don't have to worry about getting too wet during your adventure!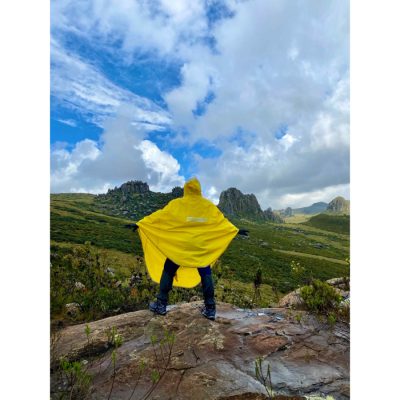 A hiker in our yellow rain poncho standing on a cliff at Ol Doinyo LeSatima
What are Some of the Distinct Features of a Poncho?
When you go hiking or mountaineering, you want to be protected from the elements. A rain poncho is one of the best ways to keep yourself dry in inclement weather.
It's important to note that a good rain poncho won't just keep your head dry—it will also keep your neck and backpack from getting wet and cold. The hood needs to keep water away from your face so that you can see clearly while you're hiking or climbing, which means it needs to be big enough to fit over your entire head and neck area.
The hood should also fit snugly around your head, with no gaps between the fabric and skin. If there are any gaps, water will leak into those areas where there's no material holding it in place; this can cause chafing and irritation on the scalp or face during strenuous activities such as hiking or climbing.
The other feature of this rain poncho is the material: polyester makes it tear-resistant, but breathable so you don't get too hot while wearing it!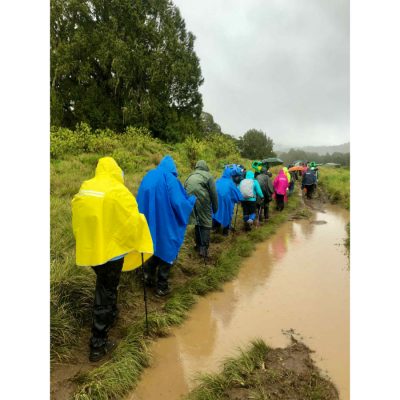 Hikers crossing a puddle in our ponchos at Mt. Kenya - Chogoria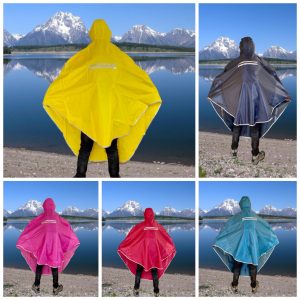 A hiker overlooking the mountains while displaying different shades of our poncho.
Rain ponchos come in a variety of colors and patterns, so you can find one that matches your style preferences perfectly!
Your Dynamic Snippet will be displayed here... This message is displayed because youy did not provide both a filter and a template to use.
Specifications
Color

Blue

or

Light Blue

or

Pink

or

Navy Blue

or

Yellow

or

Maroon