Take the Pilgrimage to The Roof Of Africa
So you have ticked Mt. Kenya Point Lenana off your bucket list and are now eyeing the Roof of Africa? Or maybe you have some experience hiking diverse trails and want to head straight to the big boys club. Our team of expert hiking coaches thoughtfully designed the Roadmap to Kilimanjaro course just for you.
Roadmap to Kilimanjaro is a comprehensive high-altitude hiking program to help any intermediate hiker reach the summit of Kilimanjaro. This 8-week training program shows you how to master high-altitude hiking and equips you with the information you need to successfully conquer yourself all the way to Uhuru Peak (5,895m).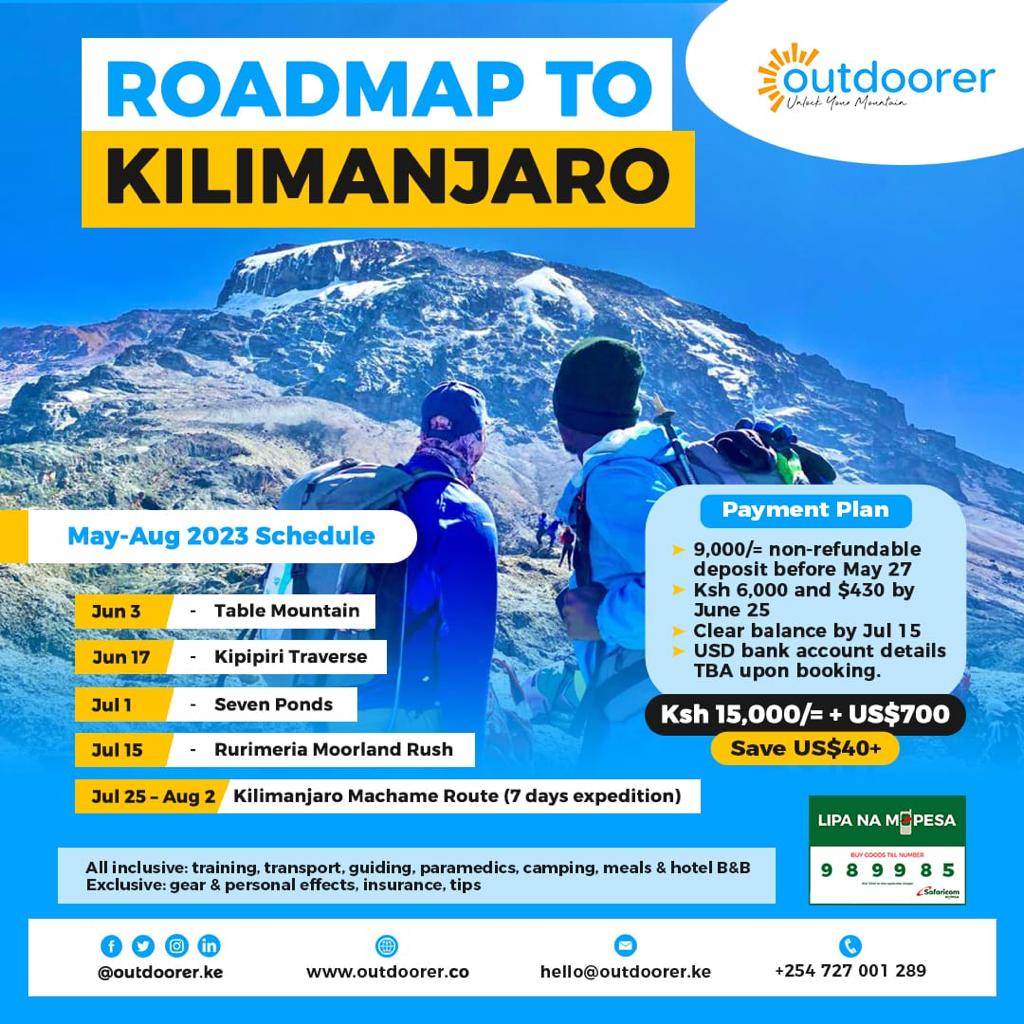 Goals Of The Roadmap To Kilimanjaro Program
Through several iterations in our Beginner to Mt. Kenya in 90 Days and High90 Altitude Rush program [deprecated], we identified three essential requirements that you must fulfill for you to complete the pilgrimage to the top of the world's highest free-standing mountain:
1. Physical fitness:- You must be reasonably fit to endure the arduous trek.
2. Sufficient understanding of hiking and hiking gear:- You must be significantly self-sufficient in most aspects of hiking, including pacing and gear layering.
3. In-depth understanding of high-altitude hiking:- You must have an above-average knowledge of high-altitude hiking. Importantly, you must understand altitude sickness symptoms and how your body adapts to high-altitude conditions.
What Are The Features Of The Roadmap To Kilimanjaro Program?
The Roadmap to Kilimanjaro training course is ideal for intermediate and advanced hikers based in Kenya and includes the following:
Four high-altitude preparatory hikes–all-costs inclusive.

Physical fitness plans to incorporate into your fitness routine.

Dedicated coaching in an online forum throughout the program.

Comprehensive training materials on all aspects of hiking–from gear and layering to walking various terrain.

7-Day Kilimanjaro Machame route expedition and 2 nights at a hotel–accommodation, camping, and transport costs included. Note: The total expedition length is 9 days when you factor a commute day each way.
The Roadmap to Kilimanjaro program is for you if you:
Successfully completed the three-month Beginner to Mt. Kenya program or the twelve-week Rookie Program;

Are an intermediate or advanced hiker who has already climbed Mt. Kenya or other significantly high-altitude mountains around the world; or

Are an accomplished backpacker who desires to climb Kilimanjaro.
The Roadmap to Kilimanjaro program is not ideal for beginners.
Roadmap to Kilimanjaro Program Schedule
Program Start

We kick off the program with a one-hour virtual session four days before the first event. The session's goal is to get acquainted with the team and get a run-through of the program and what to expect. This will include Q&A.
Table Mountain

Our first hike takes us to the brutally steep 6km Table Mountain trail in the Northern Nyandarua moorlands up to 3,792m ASL. Our sole goal in this program is to build up endurance, and Table Mountain gives us a deserving welcome.
2023 Dates: Jan 21 | Jun 03 | Oct 07

Kipipiri Traverse

We shall then tone it down a little and experience a different kind of endurance with the long but beautiful hike across the Mount Kipipiri Forest. Our 13km walk to the summit takes us to 3,363m ASL before taking a steep 4.5km descent.
2023 Dates: Feb 04 | Jun 17 | Oct21

Seven Ponds

As if to spite her twin, Table Mountain, the Seven Ponds trail is dramatically steep throughout. We thoughtfully chose the 5.5km trail as the penultimate preparatory hike to give us another kick of endurance, in readiness for the brutal Kilimanjaro summit push. The views at the seven natural ponds at 3,831m ASL are worth every pain getting there!
2023 Dates: Feb 18 | Jul 01 | Nov 04

Rurimeria

Lest we forget the arduous climb ahead of us, Rurimeria, the mother of all steep trails, gives us one last kick as we set our eyes on the pilgrimage to the Roof of African one week later. The 7.5km brutally steep trail serves to remind us how far we have come and how much we've grown. Of course, a rewarding brisk walk through the lush fields of golden moorland offers a much-welcome sigh of relief, as we trudge the last steps to 3,860m ASL.
2023 Dates: Mar 04 | Jul 15 | Nov 18

Kilimanjaro

Having put in the work, we finally undertake the pilgrimage to the Roof of Africa on a seven-day expedition. Our route choice is the Machame route (a.k.a "Whiskey Route"). We thoughtfully chose the Machame route for its adequate altitude acclimatization and averagely higher summit rate, thanks to a more gradual incline compared to other routes.
2023 Dates: Mar 13–21 | Jul 25–Aug 02 | Nov 28–Dec 06
Roadmap to Kilimanjaro Program Charges, Package & Cancellation Policy