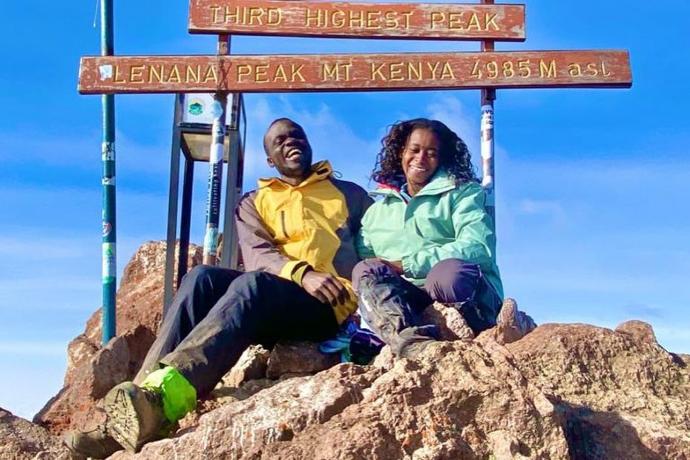 Daniela & Joshua Orwa - Class of August 2021
Hiking has never been a thing for my wife and me, although I've toyed with the idea of climbing Mt. Kenya before. It wasn't until I stumbled upon Outdoorer online in April and signed us up for the #beginnertomtkenya program. I thought to myself, "If I don't do it now when else will I ever challenge myself to climb Mt. Kenya?"
Initially, I didn't inform my wife because I did not know what her reaction would be. Also, we did not have any money set aside for the adventure at that moment. When I later told her about it, I did it as a "by the way" so that in case she declines, it wouldn't seem like a big thing — though deep down, I was hoping she would say yes to it — and she did! 😊
To my surprise, she was more enthused about it than I had anticipated. I recall my wife was doing her fourth night shift on the eve of our final hike, so I was left alone to pack everything we needed for the Mt. Kenya trip.
The next morning I left home to pick her up from work at 4.30 a.m and we headed straight to join the rest of the team to Chogoria gate. Hiking after a night shift is just one of the many times she did stuff I never thought her capable of doing.
Words cannot express what this journey has meant to us. We have experienced capabilities we didn't know our bodies had and our mindsets too have been challenged in new ways. We have walked side by side, quite literally, for about 140km throughout the program.
Off the trails, we've had good times before the hikes — shopping for gear, packing up our backpacks, and after the hikes — cleaning up all the dirt we brought home from the trails.
The opportunity to spend time alone together, the memories made, and the glories of nature we've been witness to are all things that will stick with us for life and if God gives us life and health, this certainly won't be the last time we're hiking.
PS: Packing alone for Mt. Kenya was good and bad. Bad, because I don't like packing; good, because I managed to fit in all our luggage, including the two sleeping bags, into one porter's bag. Had my wife been around to help me pack, we would have carried the entire house!
She spent a few words complaining about what I hadn't carried, I waited till we went back home to remind her in fewer words that she actually made it just fine without the stuff I never carried. 😀