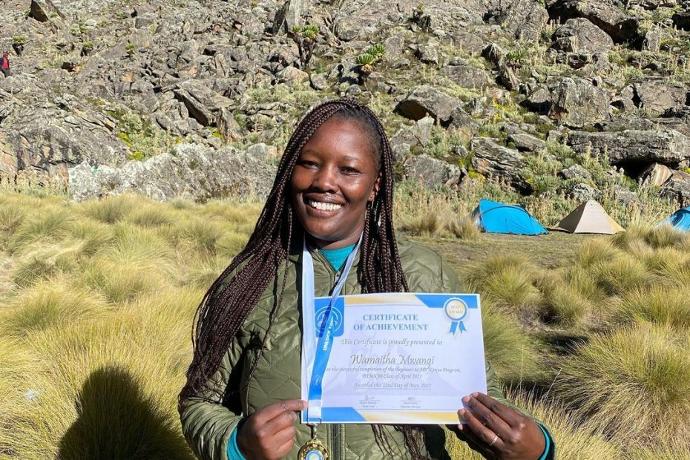 Wamaitha Mwangi - Class of April 2021
I am from a seven-year lull of life — feeling lost and numb and not even knowing myself. I couldn't even answer the question, "Who are you?" I decided to do something about it in December last year. I knew I loved walking long distances, hiking, and adventure, but where to start?

On December 12, 2020, I was at Rurimeria; I did not manage 30 minutes into the hike. On my way back, I chanced upon the Outdoorer bus en route to Nairobi from Table Mountain.
Maybe it is the blue logo that drew my attention, or perhaps I was being directed. I looked them up and saw they had a #beginnertomtkenya program and asked myself, "Why the hell not?"
My first hike was at Kilimambogo. It was tough for me — I was unfit and ashamed I couldn't move fast. But, Robert, the team lead, encouraged me by telling me to stop competing with others: move at my pace, take short steps, sip water regularly, and breathe.
That was the start of changing from a goal mindset to a growth mindset. So, the journey continued from Elephant Hill on January 23, 2021, to Point Lenana on May 22, 2021.
In four months, I have come to know so much about myself:
1. Just start; the rest will fall into place — finances, time, and commitment. I hope to get sponsorship.
2. Hiking is an individual choice. Why was I doing it? For fitness, adventure, and connection with nature.
3. I hate comfort zones; I love challenges. Hiking is no walk in the park.
4. My life choices determine my quality of life. I am taking better care of myself, and it projects on my spouse and my boys. My home is full of joy.
5. The trails and mountains made me self-aware of my weaknesses and shortcomings but, most importantly, my abilities. I don't get triggered easily now. I love my newfound calmness.
6. A growth mindset will help you achieve your goal. My goals were: to stop comparing myself to others and love and know myself. The mountains granted all these and many more.
Point Lenana was the starting point; this is now a lifestyle.
To my boys, Mwangi and Njaba, be prepared; an active life awaits! Mama is preparing the way.