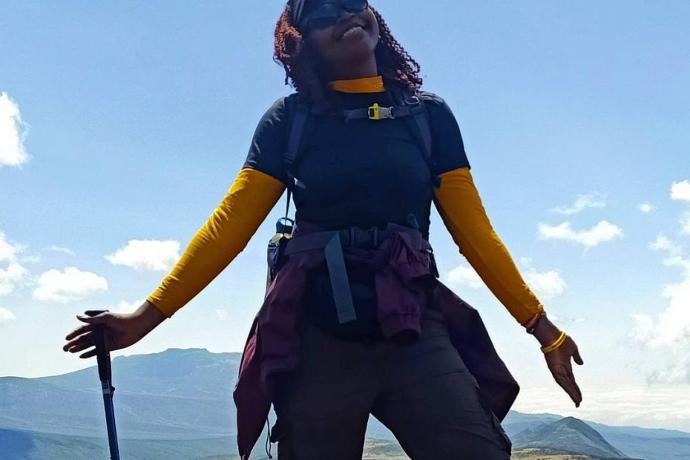 Valarie Nyabera - Class of August 2021
If you told me a few years ago that I would be this outdoorsy person jumping from one mountain to another like some adrenaline junkie, we would have both laughed out loud.

When I first started this journey, I was going through a phase in which I felt the need to do something extraordinary for the year I crossed over to the third floor. Being the extremist I am, the program sounded like the perfect story to tell my future grandkids one day. 😅
I didn't think much about it. It was one of those "irris what irris" decisions.
What lay ahead was very much unknown but what I knew for sure was that I wanted to push myself out of my comfort zone and explore an adventure that would be termed by 90% of the people that I know as CRAZY.
So after very little convincing, I teamed up with my close friend Wacuka and joined the #beginnertomtkenya program. The experience was perfect for our friendship, as we quickly became each other's cheerleader, accountability partner, and support system. Words can't describe how grateful I am for the opportunity to laugh through our struggles and achievements together.
Conquering Mt.Kenya Lenana Point was a remarkable feeling, but my true accomplishment was reaching the summit of my potential. This journey has shown me just how powerful the mind is and just how far one can go with the right attitude.
I am confident that what started as a crazy idea has manifested into a life-changing experience. As we end the program, I am already brainstorming on the next insane idea. I guess I'm now that adrenaline junkie!
For anyone who is on the fence about jumping into something that's filled with fear and anxiety, my advice would be, "Just start; if it doesn't challenge you, it doesn't change you." Trust me, it will be worthwhile.