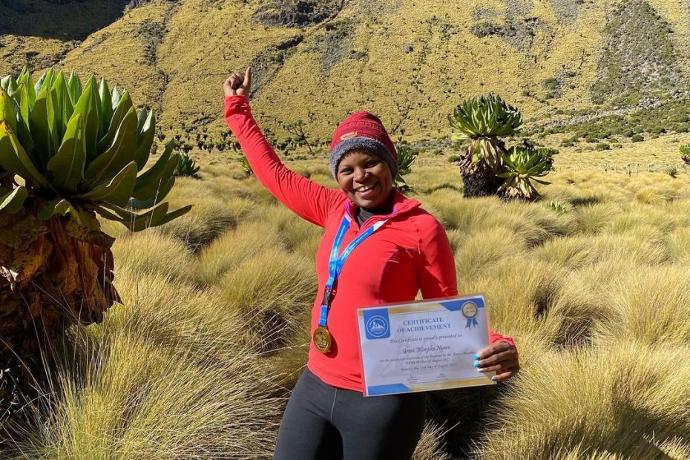 Grace Nyoro - Class of August 2021
Hiking and being in the outdoors was never my thing. The first time I went hiking was back in campus, which was 100% inspired by peer pressure. While I discovered that I loved adventure, I knew I would only enjoy this while in my 'safe space' — something that curtailed my adventurous spirit.
It was until I intentionally took up a self-awareness journey that I realized my quest for 'safe spaces' was not just about hanging out with people that I was comfortable around. It was also not because I am introverted (this had explained many of my antisocial behaviors for the longest time). It was a thirst that stemmed from my childhood.
My childhood experiences were holding me back from going out there and being who I really wanted to be. After all, awareness and acceptance are the first steps towards healing, and so the healing journey began.
I resumed active hiking early this year and rediscovered my love for adventure and this time round, the 'safe space' was no longer a prerequisite. I had been liberated!
While I often focus on achieving my goals, I learned that fulfillment is not pegged on getting to the destination, but on enjoying the journey. It is not about clearing the barriers and jumping the roadblocks, but trusting the process and taking the lessons with me for the next journey — which is often more challenging.
I realized how much I had missed the sweet smell of flowers, singing birds, beautiful nature, the fresh air, and the sand on my feet.
Why? Because I didn't want to miss my target or be caught off-guard; because I had to get things right.
I needed to let go and allow myself to fail — allow myself to feel weak and vulnerable, and most importantly, enjoy every moment. So, letting go I did!
I  conquered myself — my thoughts, feelings, and behaviors. It was an internal affair that manifested externally. I now tell my mind what to think.
The trials have taught me that I am in control; not my thoughts, feelings, or behaviors. My experiences do not determine who I become; rather, my responses to life's experiences determine my growth.
The narrative has changed! I hold the keys to unlock the mountains in my life.
I am forever grateful to the entire Outdoorer team. The #beginnertomtkenya program was not just a fitness program, but a transformational journey: physically, spiritually, psychologically, and emotionally.
The invaluable connections made on the trails are cherished. I take with me great lessons, amazing friends, and renewed zeal to do life in the outdoors.
Cheers 🥂 to unlocking life's mountains, trusting the process, and enjoying the journey while at it.