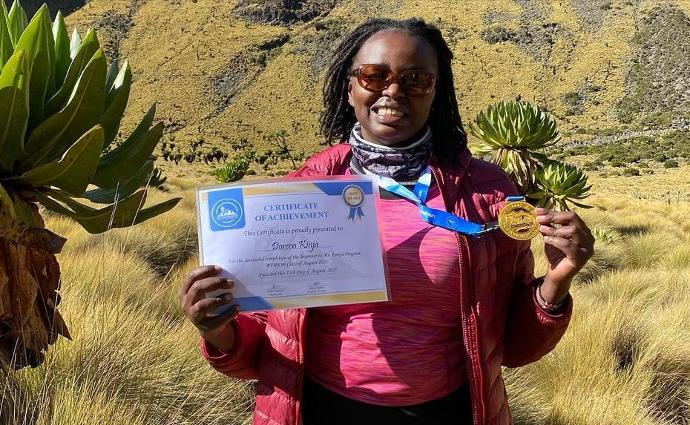 Doreen Kinja - Class of August 2021
I grew up on the slopes of Mt. Kenya, where I was lucky to see the majestic mountain every day of my early life. In 2004, my dad retired from the military and we moved back to the village. My daily view changed.

I relocated to Nairobi in 2005 in search of employment. As I made new friends, I met those who wondered and loved the mountains and soon enough learned that people from all walks of life found solace in climbing Mt. Kenya. I got curious and made a note to myself that one day I would also climb Mt. Kenya—though I didn't know how.
When I turned 40 last year, I reflected on the journey that had been and wanted to crown the blessings upon me by doing something memorable. God has a way of answering the desires of our hearts and boom! I came across the #beginnertomtkenya program on IG and the journey commenced!
Every fortnight, I showed up for a prep hike, canceled many plans to focus on this personal journey. We were prepared, given simple, yet important, advice on how to get us to the summit of any hill or mountain. The 90th day came, and the trek began. Little did I know that the test was coming for me to have a testimony.
The last 4km to the summit was the hardest, yet the purest, most fulfilling journey of my life. I learned how to trust and depend on the team, how to push for one more little step ahead, and the importance of believing in myself.
The journey to the top is never easy. You often come across all sorts of hurdles. Of importance to remember is your WHY, and I can gratefully announce that I descended from point Lenana 4985m ASL a champion.
I now, more than ever before, believe that we are limitless. We only need to allow ourselves to break those barriers! Team outdoorer, you rock and may the Lord increase you in immeasurable bounds. To many more mountains and conquering ourselves!