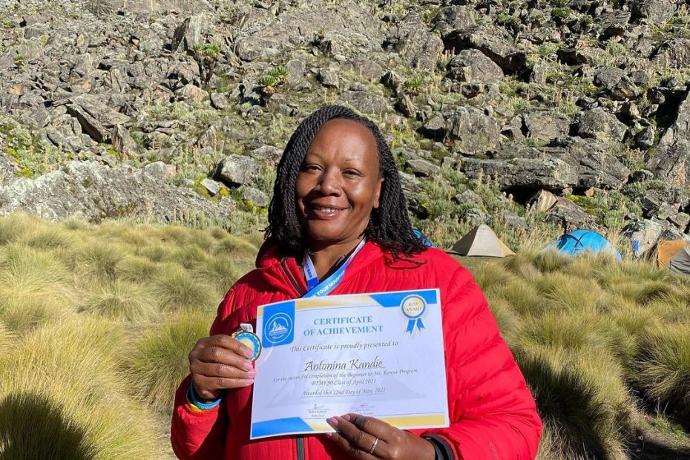 Antonina Kandie - Class of April 2021
I did it for my 50th birthday; I climbed Mt. Kenya. So much more than that, I conquered myself, one hike at a time.

When I chanced upon the #beginnertomtkenya program and signed up, I thought I was crazy. My friends thought I was crazy. I had never been active most of my life, let alone setting my feet on a hiking trail.
I felt unfit, so nothing about joining the program felt right. My consolation was that it was designed for beginners — that gave me hope that I would sail through.
I remember hurting my knee on the first hike. At that moment, I imagined that that was a sign for me to opt-out and forget that crazy dream. But fellow hikers and the Outdoorer team — complete strangers to me back then — encouraged me to keep pushing.
The doubts from friends and colleagues did not help my confidence, so it took me a while to get used to the active lifestyle. It was not until the third hike that I started finding my voice. I remember telling Robert, the team lead, that I would not let anyone water down my hopes anymore.
I had seen my potential, and for the first time, I felt that I had found the one outdoor activity that excites me. It's like the mountains started calling me.
It's been a long journey toward conquering my fears. I have gained so much in such a short period; it still surprises me when I look back.
So, when I got to the base camp on Mt. Kenya and decided to terminate my journey there, I knew I had walked far enough. I would have attempted the final trek to Point Lenana, but I wholeheartedly chose to end my journey there.
Getting that far already seemed like a far-fetched dream for far too long, and yet, I did it.
I will complete the 4 km trek to Point Lenana someday, but for now, I celebrate myself for going beyond what I thought — and was told — was impossible for me.
I could never thank my son, Adrian, enough for walking this journey with me. I look forward to seeing my daughter, Alexi, through the same journey next season. There is so much peace and potential to conquer oneself in the great outdoors. The possibilities are limitless.