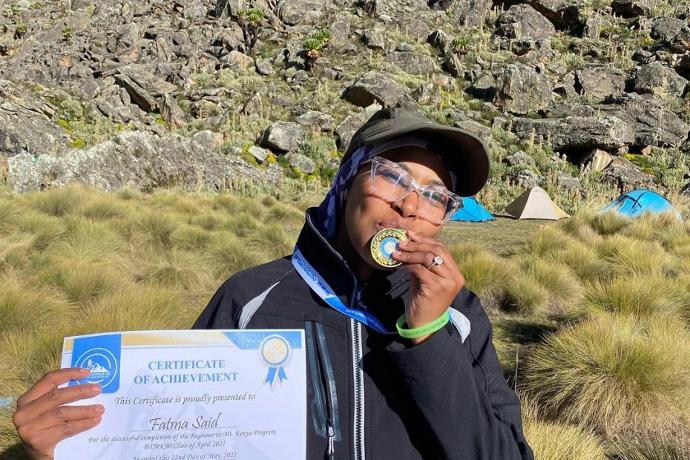 Fatma Said - Class of April 2021
I did a thing; I summited the third highest peak in Kenya, Point Lenana. At the summit, my emotions had the best of me! I cried deeply; tears of gratitude — of unlocking my mountain, my emotions, and my courage!

On my last birthday, I told myself that I would start hiking to get to Mt. Kenya; this was after I went to Longonot for team building. We did not summit but I was taken by surprise at how much I loved the peace and calm I got on that trail — the opportunity to be with my thoughts to reflect, pray, and make my supplication.
When I got to the top, it was surreal. I marveled at the beauty of God's creation and realized it is a thing — I may have found MY THING!
My best inspiration was my cousin, Anne Seroney. When I thought this was too big a mountain, she held me down; made it look like a walk in the park.
I started researching different hiking groups and while at it, met my cousin Halima, who told me to check out Outdoorer's Beginner to mt. Kenya program.
I struggled to commit to my fitness and weight loss journey, so I told my fitness coach that it had got to be 2021 or never. Hiking has accelerated this journey; it has become my self-care. I had — and still have — no choice but to keep my cardio up, commit to the journey, and keep moving! I actually think that hiking is my fitness journey; I have outdone myself!
I have been on the trails since January with the excellent Outdoorer team: Robert, Adam, and the rest of the team. They were available round the clock to support us, answer our questions, and reassure us when we got scared.
The Mt. Kenya experience is still surreal. The experience was magical, beautiful, and HARD! Nothing prepares you for the summit night; it takes and needs every bit of you — especially your mental strength!
The summit morning was cold, dark, and difficult, but I CONQUERED!
While I thank God that altitude sickness didn't hit me, I saw my hike mates hit badly! We thank God they are now doing well.
This tribute is dedicated to my two daughters, Imani and Zuri, assuring them that they can do anything they put their minds to.