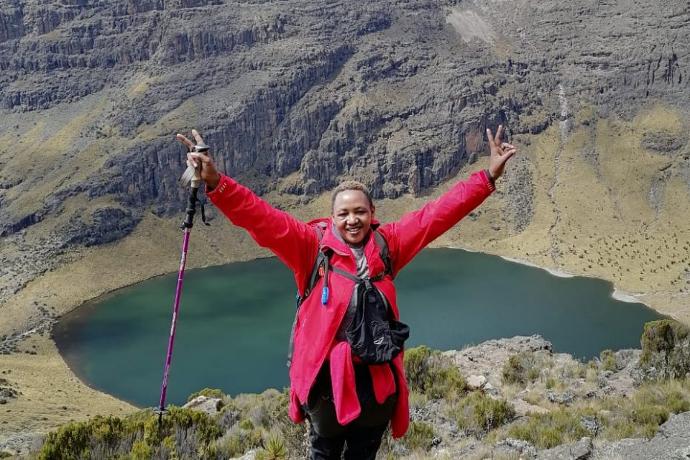 Rose Wahome - Class of August 2021
At the start of 2020, I was restless, I wanted to do something new, but I didn't know what. The world was beginning to talk about COVID-19 and how those with underlying issues would be at risk.
At the time, my daughter was unwell, and my mum is diabetic. I was not in a good space, thanks to reading and listening to everything I could find on COVID-19 at the time.
On 1st March 2020, I joined my friend Roseline for what had been referred to as 'a nature walk' at the Kamweti/Castle forest in Kirinyaga. I hadn't exercised much before the walk, and though it is a moderate trail—in retrospect and having gone back there after hiking some more challenging trails, it is a moderate hike.
I could not get to the waterfall. It rained throughout the walk, and I kept wondering what in God's name I had done leaving my warm bed so early to suffer. It's funny because I now enjoy being rained on while hiking, especially on my way down from a summit. It feels like being washed off of all my worries, cares, and sins.
Unbeknownst to me, the outdoors had grown on me from that 'not so good' first experience. In time, I found myself enjoying and suffering but enjoying the different trails that I dared take on. Eventually, I began to appreciate the journey and all the beautiful views—not to mention all the fantastic people I meet while out there.
Hiking became my thing, and not even the lockdowns could stop me. I had found my happy place.
I don't remember when I made up my mind to take on the big mountain, but I remember being awed by the stories of friends and acquittances who had dared take it on.
After a failed attempt in April, thanks to a sprained leg at Mount Satima, I took on the big mountain on 12th August 2021, having been on 26 hikes since that first hike in March 2020. The three nights, four days experience in Mt. Kenya is simply inexplicable.
The Mt. Kenya experience is not easy to put into words. I can try, but I would not do it justice because it is primarily something one feels and lives. It was incredible, scary, peaceful, and cold—very cold. The food was yummy; it is surprising how something as simple and basic as food can change your attitude and perspective, but it did for me on that mountain.
Sleep is neither here nor there; the water is sweetest; tummies are constantly bloated; answering the call of nature can be an adventure; fellow hikers are mostly amazing, and there is no need for weather forecasts because the mountain is the boss. Experiences are personal, even though one is in a group. I experienced all seasons in the four days, and I think the menstrual cycle does not exist on that mountain!
I could keep listing the experiences, but the most memorable and inspiring part of the experience was, of course, the ascent to the third-highest peak of Mount Kenya. It was an exhilarating moment arriving at the Lenana peak after all the lead-up to it. The views were spectacular, with both Nelion and Batian peaks standing tall. The sunrise was fantastic!
Thank you, team Outdoorer Beginner to Mt Kenya program, for taking me to the third-highest peak of Mt. Kenya. It was worth everything. I am thankful to my friends who shared their experiences as I prepped and to fellow hikers who did the climb with me. Above all, I'm grateful to God for giving me that unique opportunity to experience the famed Mt. Kenya climb. I had lots of reflective, prayerful, peaceful, tiring, and jolly moments to add to my life's memories—heck, I even wore a dress!
I hike because I love it and I can. Hiking keeps me sane and fit. There's plenty of fresh air in the forests, and I get to meet lovely people. I hike for strength — it is an excellent way to live — but climbing Mt. Kenya was surreal for me, and I look forward to climbing more mountains for as long as my legs keep stepping.
If you are thinking of conquering yourself on the big mountain, go ahead. You might love the journey or not, but you will never know until you dare. So, do it! As for me, I will keep hiking because in the words of John Muir, "The mountains are calling and I must go."